We can't believe it's already June which means summer is here! The first official day of summer is June 20th, to be exact. Summer means that lots of fresh veggies are in season! Today we're sharing 3 healthy recipes that are perfect for a warm, sunny day outside with friends and family. All of the recipes below include their own nutritional fact listings so you can make the best choice for your dietary needs! We hope these three healthy recipes will inspire you to make healthy choices this summer season. When we eat good, we feel good!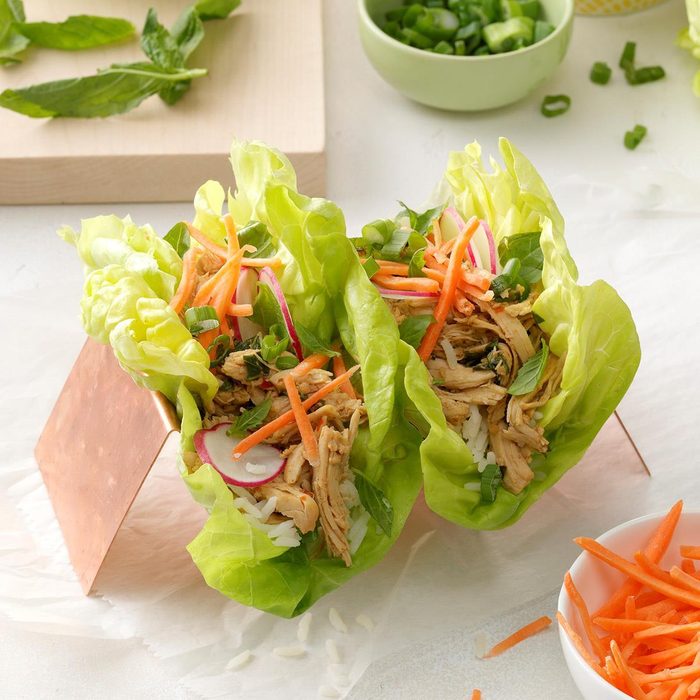 Ingredients:
1 pound boneless skinless chicken breasts
1/2 cup reduced-sodium chicken broth
4 garlic cloves, minced
1 tablespoon reduced-sodium soy sauce
2 teaspoons oyster sauce
1/2 teaspoon crushed red pepper flakes
2 cups torn basil leaves, divided
2 tablespoons hoisin sauce
12 Bibb or Boston lettuce leaves
2 cups cooked long grain rice
4 green onions, chopped
Shredded carrots and thinly sliced radishes
Instructions: 1-1/2-qt. slow cooker, combine the first 7 ingredients. Cook, covered, on low until a thermometer inserted in chicken reads 165°, about 2-1/2 hours. Remove chicken; shred with 2 forks. Return to slow cooker. Stir in 1-1/2 cups basil and hoisin sauce; heat through. Serve in lettuce leaves with rice, green onions, carrots, radishes and remaining basil.
Nutritional Facts: 1 lettuce cup: 93 calories, 1g fat (0 saturated fat), 21mg cholesterol, 162mg sodium, 11g carbohydrate (2g sugars, 1g fiber), 9g protein.
Coconut Milk Strawberry-Banana Pops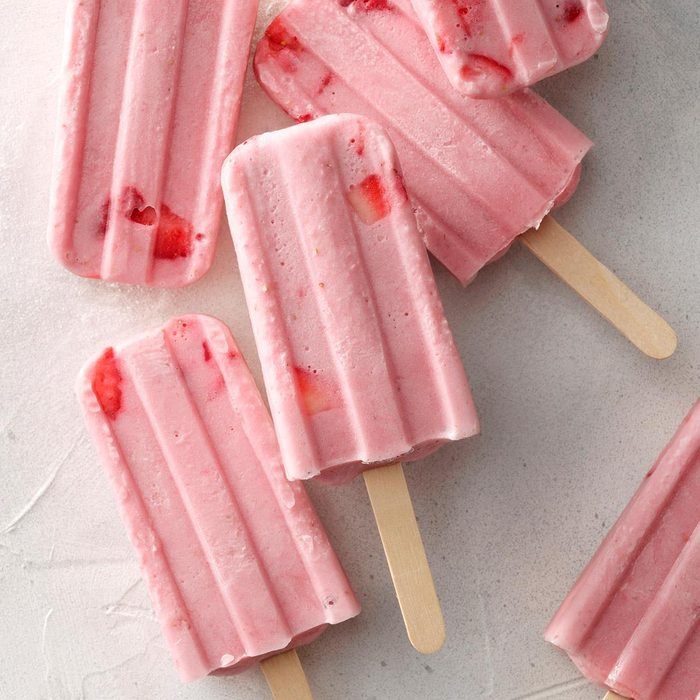 Ingredients:
1 can (13.66 ounces) coconut milk
1 pint fresh strawberries, chopped, divided
1 medium banana, sliced
2 tablespoons maple syrup
12 freezer pop molds or 12 paper cups (3 oz. each) and wooden pop sticks
Instructions: Place coconut milk, 1-1/2 cups strawberries, banana and syrup in a blender; cover and process until smooth. Divide remaining strawberries among 12 molds or paper cups. Pour pureed mixture into molds or cups, filling 3/4 full. Top molds with holders. If using cups, top with foil and insert sticks through foil. Freeze until firm, at least 4 hours.
Nutritional Facts: 1 pop: 51 calories, 3g fat (3g saturated fat), 0 cholesterol, 5mg sodium, 7g carbohydrate (5g sugars, 1g fiber), 1g protein.
Chicken with Peach-Avocado Salsa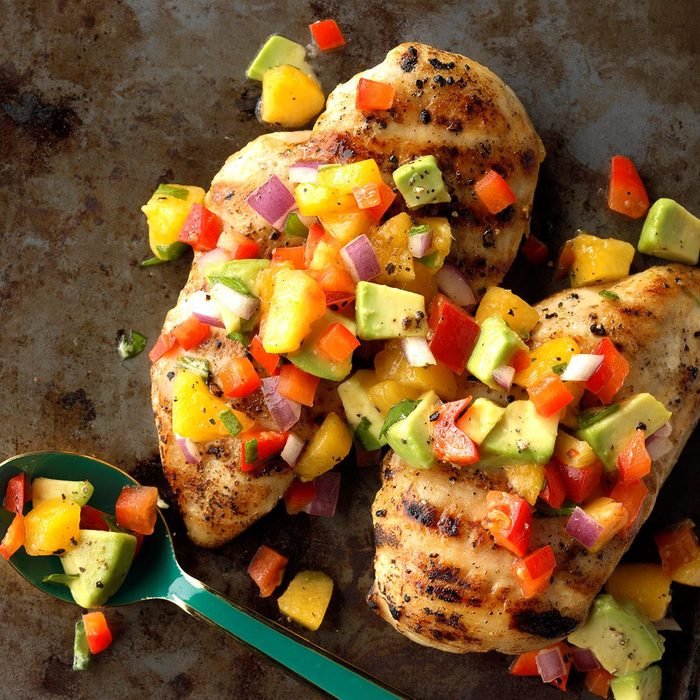 Ingredients:
1 medium peach, peeled and chopped
1 medium ripe avocado, peeled and cubed
1/2 cup chopped sweet red pepper
3 tablespoons finely chopped red onion
1 tablespoon minced fresh basil
1 tablespoon lime juice
1 teaspoon hot pepper sauce
1/2 teaspoon grated lime zest
3/4 teaspoon salt, divided
1/2 teaspoon pepper, divided
4 boneless skinless chicken breast halves (6 ounces each)
Instructions: For salsa, in a small bowl, combine peaches, avocado, red pepper, onion, basil, lime juice, hot sauce, lime zest, 1/4 teaspoon salt and 1/4 teaspoon pepper. Sprinkle chicken with remaining salt and pepper. On a lightly greased grill rack, grill chicken, covered, over medium heat 5 minutes. Turn; grill until a thermometer reads 165°, about 7-9 minutes longer. Serve with salsa.
Nutritional Facts: 1 chicken breast half with 1/2 cup salsa: 265 calories, 9g fat (2g saturated fat), 94mg cholesterol, 536mg sodium, 9g carbohydrate (4g sugars, 3g fiber), 36g protein. Diabetic Exchanges: 5 lean meat, 1 fat, 1/2 starch.