Fall is here! We're excited about the cool air, pumpkin carving, and all the tasty fall treats. Today we're sharing three healthy and delicious fall recipes - with nutritional info included! All three of these recipes are low in sugar and can be featured as side dishes for your next fall get-together.
The first recipe is for a vegan butternut squash soup. Did you know that squashes are one of the oldest known crops? In Mexico, they were found dating back 10,000 years ago. Chickpeas are the main ingredient in the second recipe, and they originated in the Mediterranean. The last recipe features the acorn squash, which is a winter squash and one of the 100 different varieties of squash.

Roasted Butternut Squash Soup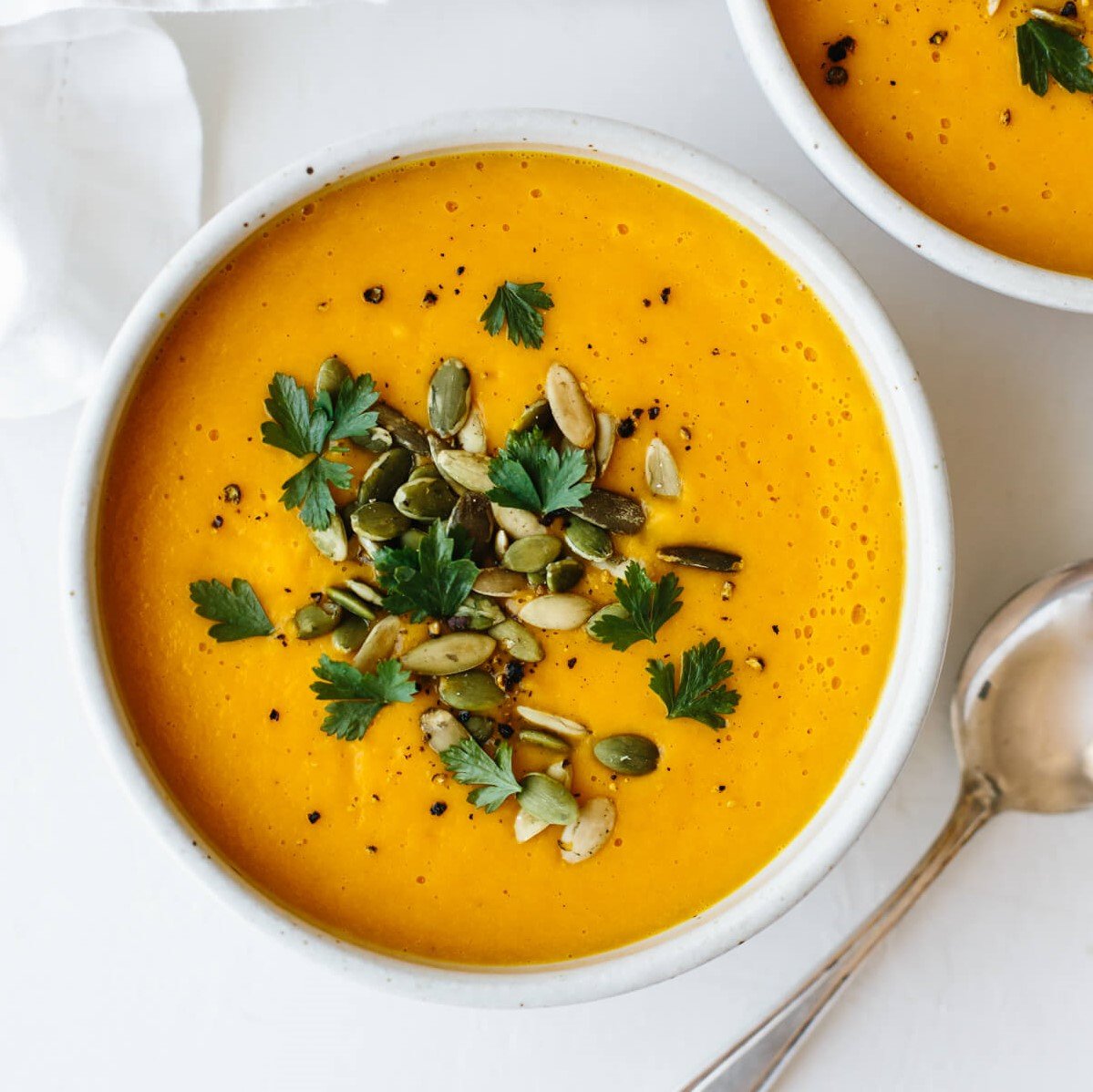 Ingredients:
• 3 1/2 pounds butternut squash
• 1 tablespoon avocado oil
• 1 small yellow onion halved
• 1 garlic clove peeled
• 1/2 tablespoon maple syrup
• 1 teaspoon salt
• 1/4 teaspoon ground nutmeg
• 1/4 teaspoon ground ginger
• 4 cups vegetable broth
• cracked black pepper to taste
Instructions:
Preheat your oven to 425 degrees. Slice the ends of the butternut squash and then slice it in half lengthwise. Use a spoon to remove the seeds and membrane. Move to a baking tray cut side up, coat with oil, and sprinkle with salt and pepper. Then flip the butternut squash over so the cut side is down and roast for 60 minutes. At the 30-minute point, coat the cut half of the onion with avocado oil and place it cut side down on the baking tray. Continue cooking for another 30 minutes, then remove from the oven. Once the butternut squash is cool enough to handle, use a large spoon to scoop out the flesh and transfer to a blender. Remove the outer layer of the onion and add it to the blender along with the garlic, maple syrup, salt, nutmeg, ginger, butter, and vegetable broth. Start with 3 cups of vegetable broth and add more to achieve your desired consistency. Blend on high for several minutes or until creamy.

Nutrition Info:
• Calories: 292kcal
• Carbohydrates: 54g
• Protein: 4g
• Fat: 9g
• Saturated Fat: 4g
• Cholesterol: 15mg
• Sodium: 1589mg
• Potassium: 1437mg
• Fiber: 8g
• Sugar: 13g
• Vitamin A: 42870IU
• Vitamin C: 85.6mg
• Calcium: 200mg
• Iron: 2.8mg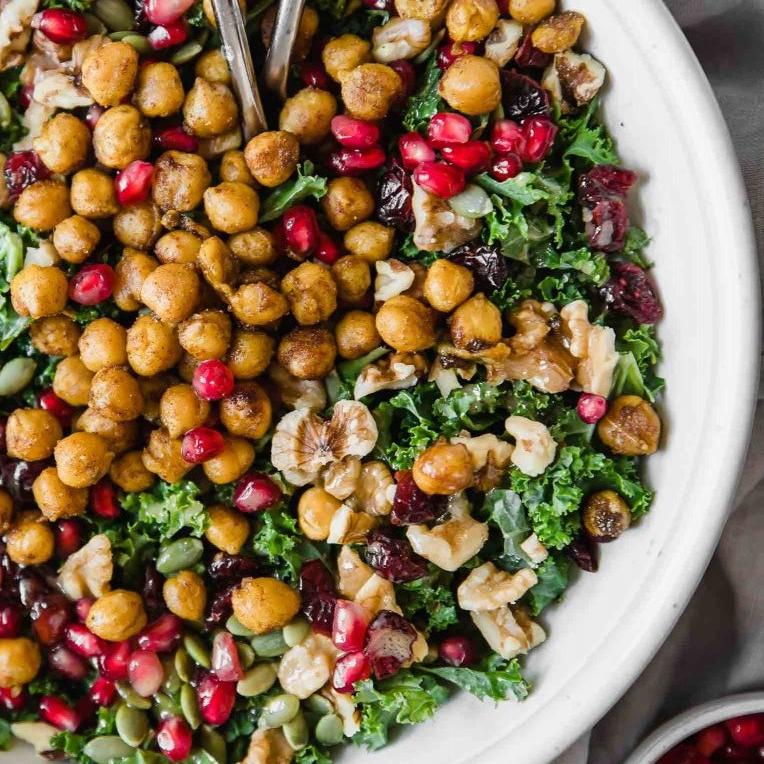 Ingredients:
• 1 15 oz. can chickpeas
• 2 Tbsp olive oil
• 1/2 tsp cumin
• 1/2 tsp turmeric
• 1/2 tsp cinnamon
• 1/4 tsp ginger
• 1/4 tsp salt (or to taste)
• 6 cups chopped kale
• 1/4 cup pepitas
• 1/4 cup walnut halves
• 1/4 cup dried cranberries
• 1/2 cup pomegranate arils
• 1/4 cup Apple Cider Vinaigrette

Instructions:
Preheat oven to 400 degrees F. Combine the chickpeas, olive oil, cumin, turmeric, cinnamon, ginger, and salt together. Spread the chickpeas out on a baking sheet and roast for about 20-30 minutes, or until golden and crispy. Toss the chopped kale, pepitas, walnuts, pomegranate arils, dried cranberries, and vinaigrette together. Add in the roasted chickpeas, toss, and enjoy!

Nutrition Info:
• Calories: 457 kcal
• Carbohydrates: 41 g
• Protein: 14 g
• Fat: 29 g
• Saturated Fat: 4 g
• Sodium: 186 mg
• Potassium: 639 mg
• Fiber: 3 g
• Sugar: 9 g
• Vitamin A: 10040 IU
• Vitamin C: 123 mg
• Calcium: 168 mg
• Iron: 3 mg

Roasted Acorn Squash
Ingredients:
• 1 medium acorn squash
• 1 tablespoon olive oil
• 1 teaspoon paprika
• 1 teaspoon garlic powder
• 1 teaspoon dried oregano
• Salt and ground black pepper
Instructions:
Preheat oven to 350 degrees. Line a baking sheet with parchment paper and set it aside. Slice the acorn squash in half and remove the seeds using a spoon. Lay the half acorn squash cut-side-down on a cutting board and slice it into 1/4-inch slices parallel to the stem. Arrange the slices in a single layer on the prepared baking sheets. Pour olive oil over the top of the acorn squash and sprinkle with all the spices listed in the ingredients section. Roast for 40-50 minutes, until the squash slices are fork-tender.
Nutrition Info:
• Calories: 78 cal
• Carbohydrates: 10g
• Protein: 1g
• Fat: 4g
• Saturated Fat: 1g
• Sodium: 106mg
• Potassium: 402mg
• Fiber: 2g